Smart and safe net cleaning with Østerbø Yanmar
Østerbø Yanmar Net cleaner is an submergible robot for cleaning of fish farming nets. It is like the oceans Land Cruiser with uniqe accessibility all around the net, even in strong currents and slack net.

Campain Prizes
Get a good deal this spring – contact us today!






– The Net cleaners best quality is that it withstands currents well so we can fulfil our job even in bad conditions. It also cleans very gentle and doesn't remove the impregnation on the nets. This keeps our customers happy. Compared to other solutions on the market we find the Østerbø Yanmars Net Cleaner to have a very good cleaning result, and due to low pressure it is not compromising with the gentleness.
– It comes with rollers on both the front and back and copes well with difficult or slack nets. It cleans very well in troublesome situations and also has a lower fuel consumption than many of the alternative cleaners.

Save operating costs
Built on an easy, genial and robust technology the Yanmar cleaner has very low maintenance needs. 
It delivers the markets lowest fuel consume with record low 14-18 litres pr hour.
This gives you the lowest operating costs.

Minimal downtime
The net cleaner has over 60 000 operating hours in harsh conditions along the coast. 
We continuously develop and improve the net cleaner in dialogue with the customers. This gives you unique dependability.
Get the job done on time.

Less wear on net
The soft and safe rubber belts ensures close contact and a good grip. It handles even harsh conditions.
With a low pressure starting at only 45 bar, you can clean the net gentle but thorough

Less noise stress for the fish
The cleaner has the lowest number nozzles and three large thrusters run by waterpressure. This makes the cleaning more silent. 
This will reduce the influence on the fish during washing.

Good for you, good for the environment
The lowest cleaning pressure gives the least emissions of anti fouling to the environment. In addition we also have the lowest diesel consume. 
The silent pump unit provides good working conditions on board the service boat.
The most affordable in use
Operating costs pr 1500 hours
Service parts (500+1000 h): € 6 700,-
Fuel costs pr 1500 h
Yanmar net cleaner + Østerbø pump (16 l/t): € 24 000,-
Yanmar net cleaner + D300 pump (22 l/t): € 33 000,-
(Based on diesel price: 1 €, 1 € = 9,7 NOK)
Fuel costs comparison, costs pr 1 500 hours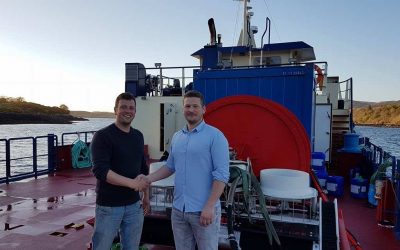 - It´s always nice to have returning, satisfied customers, so we are very pleased that Leco Marine chooses our net cleaner again, says Jan Erik Søreide, Marketing manager at Osterbo. Reliability The Scottish service company Leco Marine relies on their equipment having...
les mer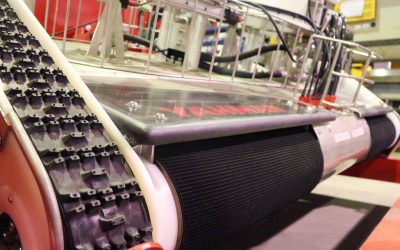 Use a net cleaner with Yanmar belts for safe, gentle and efficient cleaning of fish farming nets. 1. Gentle contact Yanmar's gentle belts are made of soft rubber, without any sharp parts. They have no sharp edges that can damage the net, but a rubber structure that...
les mer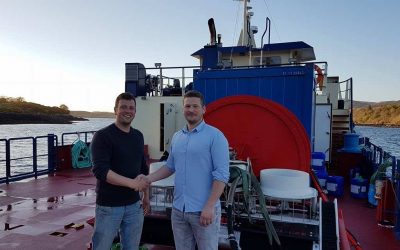 Leco Marine has just reached a very special milestone: 1 whole year without unintended maintenance stops on their Østerbø Yanmar net cleaner. Advantage in the market This gives them a huge advantage in the market. - Our customers demand 100% clean nets delivered fast...
les mer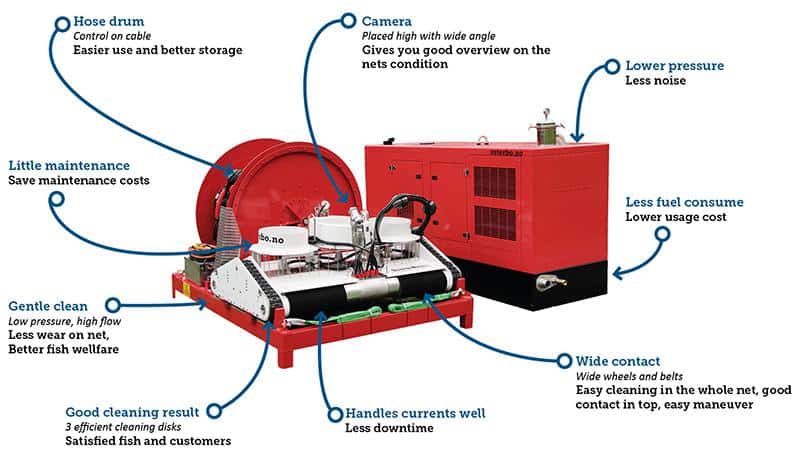 We offer complete solutions for net cleaning
Pump unit and hose drum for optimal use, storage and transport
Technical specifications
| | | |
| --- | --- | --- |
| Model | | NCL-LX |
| Operation method | | Manual with joystick |
| Body | External dimensions | L1358 x W2287 x H874 mm |
| | Weight | 600 kg |
| | Max speed | 21 m/min |
| | Max cleaning speed | 2200 m2/t |
| | Max depth | 50 m |
| | Propeller | 450 mm dia x 3 |
| | Wheels | Two row rubber crawlers+ 4 wide tires |
| | Drive unit | DC-motor with reduction gear – 48 VDC |
| | Depth sensor | Type x 1 |
| | Camera | CCD x 2 |
| | LED-lampe | LED x 4 (optional) |
| | | |

Features Net cleaner
Withstands currents and swell
Clean everywhere in net – even top and in slack net
Low fuel consume
Clean with fish in cage
Uses all of the water in the pump for cleaning
Good control on conditions under water with camera and screens
Low maintenance
Financing through Export credit norway

Why clean the net?
Prevents spreading paracites
Good conditions for cleaning fish against lice
Less use of chemicals and medicine
Better oxygen flow
Healthier fish
Faster growth
Du you want to clean smart and safe too?
Contact us today: