Clean fish farming nets easy, thorough and efficient
NEW! 37% faster cleaning speed*
Østerbø Yanmar Net cleaner is an submergible robot for cleaning of fish farming nets. It is like the oceans Land Cruiser with uniqe accessibility all around the net, even in strong currents and slack net.

Nr 1 in slack net
Large contact surface with net ensures good results even in challenging nets where others has to give up.

Nr 1 in currents
A good location has good throughput of water and nutrient. You need a cleaner that handles tough conditions.

Minimal fuel consumption
With a consumption down to 14 liters per hour (14 to 18 l in normal use) it is in its own class.

Thorough
The net cleaner removes all mussels and fouling. Even clean in top of net. Access everywhere in net.

Gentle
With a very low pressure (90-150 bar) and large contact area you get gentle but thorough wash. Little wear on net.

Low maintenance
Optimized net cleaner with low maintenance costs.
Customer review
– The Net cleaners best quality is that it withstands currents well so we can fulfil our job even in bad conditions. It also cleans very gentle and doesn't remove the impregnation on the nets. This keeps our customers happy. Compared to other solutions on the market we find the Østerbø Yanmars Net Cleaner to have a very good cleaning result, and due to low pressure it is not compromising with the gentleness.
Customer review
– It comes with rollers on both the front and back and copes well with difficult or slack nets. It cleans very well in troublesome situations and also has a lower fuel consumption than many of the alternative cleaners.
Demo in Scotland
Are you interested in a live demonstration of the net cleaner? We have demo-sites in Norway and Scotland. Contact us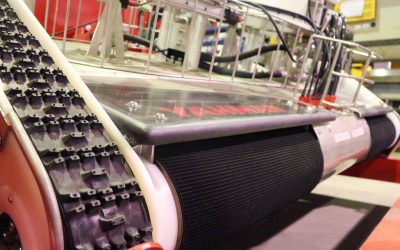 Use a net cleaner with Yanmar belts for safe, gentle and efficient cleaning of fish farming nets. 1. Gentle contact Yanmar's gentle belts are made of soft rubber, without any sharp parts. They have no sharp edges that can damage the net, but a rubber structure that...
les mer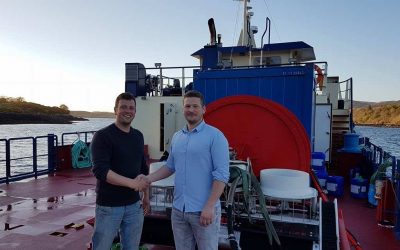 Leco Marine has just reached a very special milestone: 1 whole year without unintended maintenance stops on their Østerbø Yanmar net cleaner. Advantage in the market This gives them a huge advantage in the market. - Our customers demand 100% clean nets delivered fast...
les mer
- We are very pleased with our Yanmar Net Cleaners, says Halvor Økland at Br. Bakke AS, - they make their way around the whole net, washes clean with little wear and have low operating costs. Br. Bakke AS has been working with net cleaning for many years on the...
les mer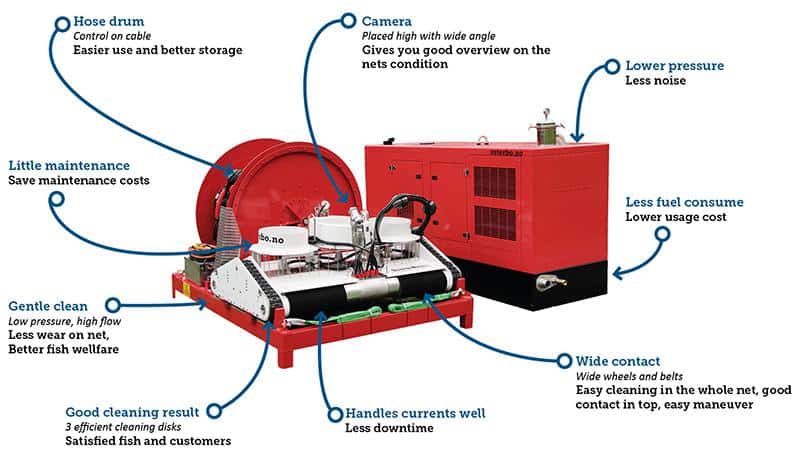 We offer complete solutions for net cleaning
Pump unit and hose drum for optimal use, storage and transport
Technical specifications
| | | |
| --- | --- | --- |
| Model | | NCL-LX |
| Operation method | | Manual with joystick |
| Body | External dimensions | L1358 x W2287 x H874 mm |
| | Weight | 600 kg |
| | Max speed | 21 m/min |
| | Max cleaning speed | 2200 m2/t |
| | Max depth | 50 m |
| | Propeller | 450 mm dia x 3 |
| | Wheels | Two row rubber crawlers+ 4 wide tires |
| | Drive unit | DC-motor with reduction gear – 48 VDC |
| | Depth sensor | Type x 1 |
| | Camera | CCD x 2 |
| | LED-lampe | LED x 4 (optional) |
| | | |

Features Net cleaner
Withstands currents and swell
Clean everywhere in net – even top and in slack net
Low fuel consume
Clean with fish in cage
Uses all of the water in the pump for cleaning
Good control on conditions under water with camera and screens
Low maintenance
Financing through Export credit norway

Why clean the net?
Prevents spreading paracites
Good conditions for cleaning fish against lice
Less use of chemicals and medicine
Better oxygen flow
Healthier fish
Faster growth
* The increase in speed is based on cleaning speed measured in net after adjusting engine in 2017 compared to cleaning speed in data sheet from 2016. We take no responsibility for currents, condition in net, driving pattern, pilot training, pump capacity and other conditions that might affect the speed.